I'm not posting enough small updates for you guys lately, that's for sure. But first, remember that the public build should hit in about 24 hours. Asking more won't make a difference.
That said, I wanted to touch base on what's been going on in Fen-town. Mostly I've just been writing a new laquine NPC, Nayna Triverre, a climatologist stationed on Uveto. I had to make a new character in order to fulfill a custom scene on my list that demands a futa who is almost completely, blissfully unaware of sexual matters. None of the current characters really fit for it. Oh, and did I mention that the character needs to cum like a freight train? Cause they do. So yeah, new furry futa to fill PCs and fulfill my obligations.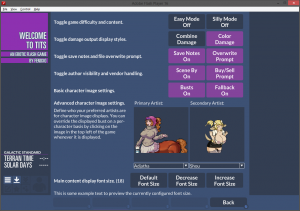 My code time is probably going to start looking at Uveto sometime after the public release. We may see the layout of the first town plop soon. Also, and perhaps sooner, Gedan has been doing work overhauling the bust display system.
<3 you guys, and thanks for showing up in such droves for Shou and Adjatha's art streams. I'm sure they were both thrilled to have over 100 viewers during their streams today.
Update: 3,900 word day. Not bad, Fenwrites. Not bad.