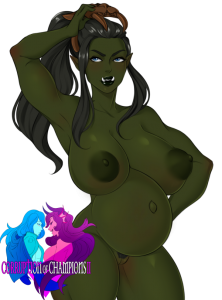 0.2.38 Patch Notes:
You can now knock Rags up during her new post-date sex scenes! (Written by TheObserver)
Character portraits to appear in-line with their combat text to help pick out who's doing what to whom in a fight!
New Since Last Public Patch…:
You can free Kiyoko and her brood from the orb after dealing with the Kitsune den.
New NPCs: Vari the Leothran MILF in the Frostwood, the Drider Oracle in the Foothills.
New Scenes: Berwyn Prone Bone, Cait x Ev New Intro, Sugoi vaginal fucks
New talks with Cait, Etheryn, and Evergreen. Also a time-sensitive one with the Harem Cats during Hornet Quest.
New TF: Spiderfolk
Continued big ups to Leykoss for doing an assload of coding on this patch, and of course to Tobs for a metric floofload of kitsune content over the last few months!
As always, you can back us at….
… Patreon!
… Sponsus!
… or SubscribeStar!