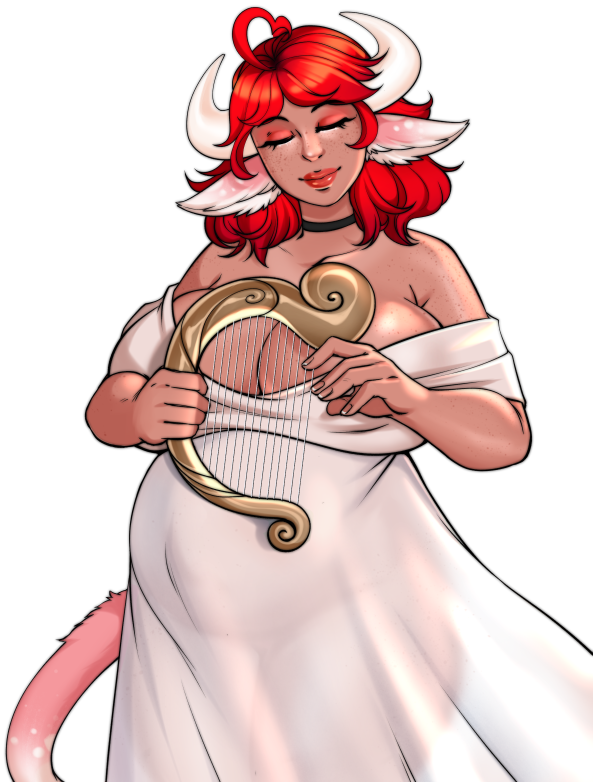 (or maybe more!)
Mayternity continues, this time bringing a new relationship expansion to my cow-bard Livrea, and some hot new group action for the orc tribe if you've knocked all the girls up at once!
Edit: There's a hotfix live now to fix a minor issue with Livrea's romance requiring a dick, instead of just the breeding.
0.4.44 Patch Notes:
Livrea has a new relationship expansion. Unlock it by having sex with her, tipping her, or completing main story quests (any combination adds to her relationship tracker). Eventually she'll ask you out, and you can decide how far you want to take your relationship from there~
If Arona, Hretha, Infrith, and Rags are all pregnant to the point of showing at once, bring Arona to the Warcamp in your party and then leave with her. Repeatable thereafter from Arona's camp menu. Requires cock. (by Gardeford)
New Infrith titjob scene (by Funtastic)
New Marefolk Shaman loss scene for PCs with vaginas (also by Funtastic)
New Busts: Noire, Preggo Livrea
New CG: Orc Pregnant 5some.
If you like what we're doing, consider supporting us on Patreon or SubscribeStar!
New Since Last Public Patch:
The Khor'minos baths are now open, with several substantial new NPCs to enjoy (Arille the femdom cow, Noire the breedable sheep, Taranda the buttslut elf, and Yonzan the hung lizard dude) as well as some cute masseuses.
A bunch of new random Wayfort scenes.
New Busts: KM Bath NPCs
New CGs: Arille Femdom
One of our most substantial pregnancy expansions yet is coming next patch. Stay tuned!