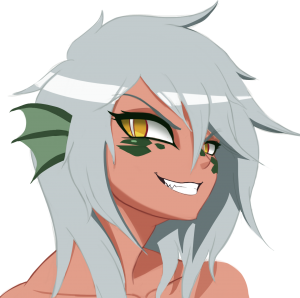 Continuing the march of implementation! Drake's added in the Lust Combat subsystem. You can now Tease enemies into submission and Sense their weaknesses — pretty much what you expect from a streamlined version of what appears in TiTS, but I understand it was quite a bit of work hooking all the actual mechanics up under the hood. On the content side, we have a new enemy in the Foothills region: the wild Wyvern girl! She's a tanky opponent whose hefty scales make her resistant to physical damage, but less so to Lust…
TBA: Adding Lust attacks for Cait and the Harpy Thieves. Cait's lust attacks will be added alongside a Tactics setting that'll let you set your companions to different strategies or damage types.
0.0.11 Patch Notes
Added the Lust Combat subsystem. It unlocks after the tutorial.
Added the Sense command, and added Likes and Dislikes for certain sexual equipment to the extant enemies as well as Cait.
Added the Wyvern girl to the Foothills, complete with sex scenes. Note that her Venom Milking scene does not currently give you the item itself; it is tba.
Assorted bug fixes, code refactors, and making saves more efficient. All the images in game were resized and properly cropped/scaled, so that should improve load times a bit!
The wyvern girl's headshot is by DCL!