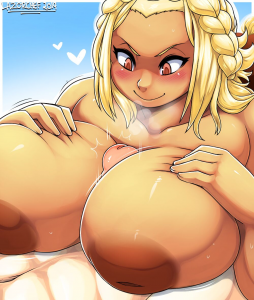 I hope you guys have a sweet tooth cuz this patch is fulla sugar~
0.3.30 Patch Notes:
You can now follow up with Ahmri after CentaurQuest, assuming she wasn't absconded-with by Tollus's goons, including new sex options and the ability to marry the chunky pony. 😀 (Written by Gardeford)
Arona has some new scenes in support of her impregnating the PC, showing off just how much she adores your baby bump… (Written by BubbleLord)
New Since Last Public Patch:
New Quest: Help Gweyr stop the cultists!
New NPC: Lyla, the wandering knight!
New NPC: Solveig, the half-lupine, half-orc. Found at the Frost Hound after GarretQuest and AronaQuest.
New post-quest scenes with Chieftain Naiyana. New Etheryn buttfingering scene.
New set for Brienne (NOT BRINT), gotten at level 5 from the Frost Hound.
You can now move around the map by clicking on it when the crosshair is active. Adjacent locked tiles are now connected by a dotted line while exploring. The map also now has a marker on it when you're in a region or dungeon over your level.
Ahmri titfucks art by Lazorchef!
As always, you can become a backer and support the game's development on…
… Patreon!
… Sponsus!
… or SubscribeStar!