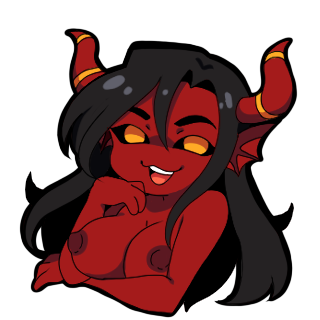 If you're romancing Kas and want to see the demon in a more submissive position, now's your chance.
0.5.16 Patch Notes:
You can now purchase as weapon display from your furniture vendor of choice, allowing you to display a weapon or offhand over your throne.
Calise's second quest, The Ring of Fate, is now tracked like any other quest.
A bunch of bug and text fixes.
0.5.15 Patch Notes:
New Transformatives: Anubian (from Senja; by Ashlynn), Batfolk (from the Undermountain enemies; by Youngpupa), Satyr (randomly found in the Frostwood; by Youngpupa). Also a TF for making your tongue/cock/tail prehensile, bought from Senja (by Zavos).
New sex scenes: Kasyrra's Dungeon. If you've walked into the dungeon in Kas's dream palace, you can ask about it… and then take Kas down and tie her up for some fun. (by Skow)
New Since Last Public Patch:
New seamstress NPC, Hotaru, in the Fox Den.
The Milking Barn now has scenes for working the stall with Cait (which also triggers her Enthiccening content)
Livrea can now be encountered in the barn after you've sexed her. Includes a scene for you, her, and Cait.
After completing Calise's second quest and if you are on Kas's romance path, she too will appear in the barn on rare occasion.
Orlaith has a pair of new scenes, following up on her promise of forced blowjobs.
Mallach's temple has new scenes for working the rooms.
Sandre & Caera can be moved to the Wayfort, with new interactions there.
Vari is now a persistent encounter in her own new tile, rather than a random encounter. You can also get to the village even while she's pregnant.
You can add a dungeon to the Wayfort. (There are no interactions with NPCs in there yet, stay tuned.)
You can also now access storage at the Wayfort's vault, and if you have Dal's rangers around or have built the Temple of Mallach, you'll start getting passive income there.
You can now purchase furnishings for your Wayfort from Farrah, or Gianna if she's not around, when the fort's fully repaired.
New Busts: Marefolk Stylists, Hotaru, Kas's new disguise, Spirit Wolf
New CGs: Hotaru bathing, Quin knight set
If you like what we're doing, consider supporting us on either Patreon or SubscribeStar! And come hang out on CoC2's own Discord!