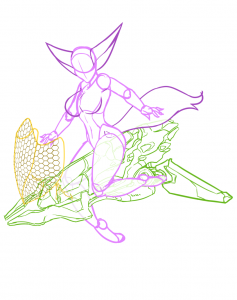 The Sentinel Bike! (For imaging/display purposes only!)
Hello folks! Shou here! For those who have been curious about my whereabouts, I've been busy prepping for the upcoming convention we'll be attending in April! Furry Weekend Atlanta will host FenCo for the weekend, and we're hoping to sell merchandise, and have Fen hosting a panel sometime during the Con. I'll also be there, talking and taking orders for anyone interested.
Merchandise has been quite a bit of fun to put together. There will be several Bundles offered to buy, containing images+stories+working game model. There will be Prints from myself, Adj and Guest artists! You'll be able to purchase the VN (providing it's finished by then), as well as ID Badges, bookmarks, buttons, and stickers!!
Pre-orders for ID Badges will be opening in February for anyone who wants to have one at the Con, you'll be able to pick them up at the table, or hopefully have it mailed to you before the Convention itself!
Anyways! Who should be riding this pretty beauty? Why don't you guys tell us!
Who should be riding the Sentinel bike?
Penny (40%, 284 Votes)
Saendra (22%, 158 Votes)
Kaede (12%, 88 Votes)
Kiro (10%, 72 Votes)
Shekka (6%, 45 Votes)
Hana (5%, 36 Votes)
Renvra (2%, 16 Votes)
AuShou (1%, 8 Votes)
Nayna (1%, 8 Votes)
Total Voters: 715

Loading ...