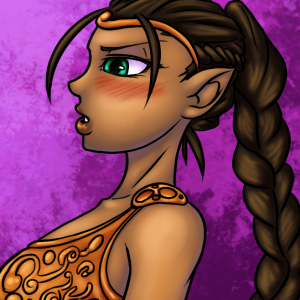 New update to Fall of Eden after a long delay! Gradually settling into the new job, though it'll likely be a while until I'm up to the old rate of releases. For now, I'm aiming for monthly at least.
New content contains some new mobs for more powerful players, found in the Hills area. The regular cats also have a new loss scene.
Play it here.
There is an offline version available here.
Check out the Fall of Eden forum.
Fall of Eden source code can be found on Github.
Check out the Android port here. Direct link here.
Report bugs on Github or on the forums.
Fall of Eden has a Patreon.
Full changelog after the break.
Update: New android version is uploaded.
Version 0.4q
CK took care of a whole bunch of typos
Added a warning message to the save screen
Fixed the requirement for Gwendy's Double Dildo scene. You need a cap of 8 instead of 30, so you might need to work your way up a bit first
New mob added to the Highlands: the catboy mage, written by The Observer. Packs a magical punch
New mob added to the Highlands: the centauress, written by The Observer. Packs a physical punch
The regular felines have a new loss scene if you happen across two of them with cocks. Patreon sponsored and written by a new writer, Tala
The cats have had their capacities slightly expanded, should make those with bigger cocks have an easier time to get it on with them
I relented and made robes into top-armor slot, so you can now wear pants under your robes