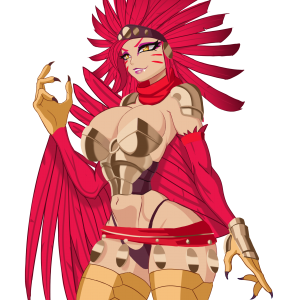 Hello Champions! Another build-in-progress patch for Corruption of Champions II is here. Drake's implemented a bunch of UI fixes and improvements. Cliffnotes below. Note that there's no new content in this patch, so you still can't leave Hawkethorne after finishing the tutorial. Though there's still some UI work to be done inside the journal and for merchants, we're going to backburner that for a bit and start working on some new content for you guys to sink your teeth into. Cait's recruitment, talks, and a meaty sex scenes focused on this big kitty titties will be first, followed by unlocking the Foothills region and the enemy mobs within.
Play the Game Here | Support Development Here
0.0.08 Patch Notes
The Data menu has been put on the right-hand sidebar, with a baller new U.I. setup for saving. The individual buttons on the left sidebar are gone.
Saving to browser and save-to-file are both supported now. Saving should be disabled in conversations and combat across the board.
You can upload your own icon for the PC by clicking on your portrait in the sidebar. I recommend a 100×100 pixels image; it needs to be under 30 kbs.
Coinage and Corruption are now tracked with their own displays on the main screen. Taking any of Kas's boons or getting demonic sexual fluids inside you will raise Corruption.
There is a new (placeholder) main menu, so you can Load games right off again.
Also a bunch of bug fixes. As the new main menu says, if you find any bugs of your own, please report them in the CoC2 section of the forum!
Bust of one of the first enemies, a Harpy Wingleader, by our artsmith DCL.