Be forewarned: Myrellion is probably janky enough to make Cyberpunk 2077 look polished on PS4 at launch.
Here's today's changelog for the Backer & Public builds:
Tarkus has been unlocked for the public.
Myrellion has been unlocked for backers.
Uveto was accidentally enabled. This has been fixed.
The following part flags were incorrectly set to correspond to the same value approximately a month ago. The number? 55. I've changed the values to increment appropriately, though as a result, older saves that have parts flagged as artificial, genital slitted, or uniballed will now all be counted as parasitic, since parasitic won the lottery and got to keep the assignment to 55.
The Codex stats page should now display the correct values for tail genitals. Formatting for tails was also improved to be more readable: types are listed first followed by flags. Tailcunt and tailcock displays were separated to better allow for multi-genitails in the future (Zaika style hybrid cock-cunt-tails.)
Soak, the Treatment, Throbb, and Gush now all have a quick button prompt to jump directly to the Codex entry if you're blocked from using the item by not having read the relevant data log.
Fixed Briget's bust not displaying.
Fixed a crash in the Treatment during body tone transformations.
Fixed orgasms not correctly emptying balls – and as a result blue balls are properly attainable again.
Fixed a crash in Codex->Stats->Location
The following Uveto content got some fixes since it got some bug reports: Syri's Uveto Quest, SubTuner, Zaalt, Kiona, Frostwyrm, Milodan Futazons, Krym.
Gigantic nuts can immobilize you once more.
Fixes for the "Event Whorizon" event.
Improved counting items when there are multiple stacks.
Applied several fixes to the goo menus.
Fenoxo's balls grew one size that day.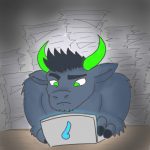 As always, if you like the game and like what we're doing, you can always support us on Patreon or SubscribeStar! And if not, well, the free builds will still be here!