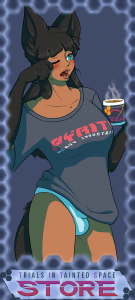 Hello Fen-Friends!
Welcome, welcome, once again to an exciting new announcement! So I know you guys have seen our Crowdmade store before, where you could purchase a few cool shirts or some mugs. But we have more exciting things in the works for you guys now!
There is a store here on the Blog itself! What?! Yeah! You heard me right! There is a store on the blog! You can purchase t-shirts, posters, and mugs galore! We've also got a few secret things in the works for in the coming weeks, and you guys will have to keep an eager eye on the blog for when we post up the announcements.
For now, mosey on over to that store button and have a gander around!
Oh! I nearly forgot. We're going to be putting up a Dakimakura for the store soon, and I wanna know which character *you* guys wanna see the most!
EDIT: Holy shit, guys, 745 votes! Thanks a ton for this. Now then our winner is… DUN DUN DUN!
Anno! We're going to see our favorite Ausar cutie on a Daki soon! <3 Watch for a post announcing its arrival.
That being said – I did notice a handful of characters you guys mentioned that weren't represented. Next time we'll have them up there, along with the top 3 after the winner! So look forward to the next poll!