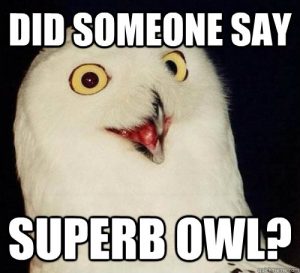 That's right, I'm making a blog post at 6 AM on Superb Owl Sunday. Big whup. Wanna fight about it? Sleep is for nerds.
I wrote a 3,100 word scene Sylvie, and I think I'm gonna rush into coding her next chance I get (which might be a day or three away). If anyone wants to brave the walls of text and pseudocode (and spoil themselves), she's posted on the event submissions on the forums. Don't say I didn't warn you – this stuff is always much better to read once it's parted out into code and parser calls.
Savin's done some more work rejiggering Del to appear in Kally's bar, with the alternate unlock route (for those Kiro-haters) and some new scenes. It's at the top of my code pile.
I'll be trying to dig into the email/submission backlog some in the days ahead. Enjoy the big game, bras!
(Go local/favorite sportsball team!)