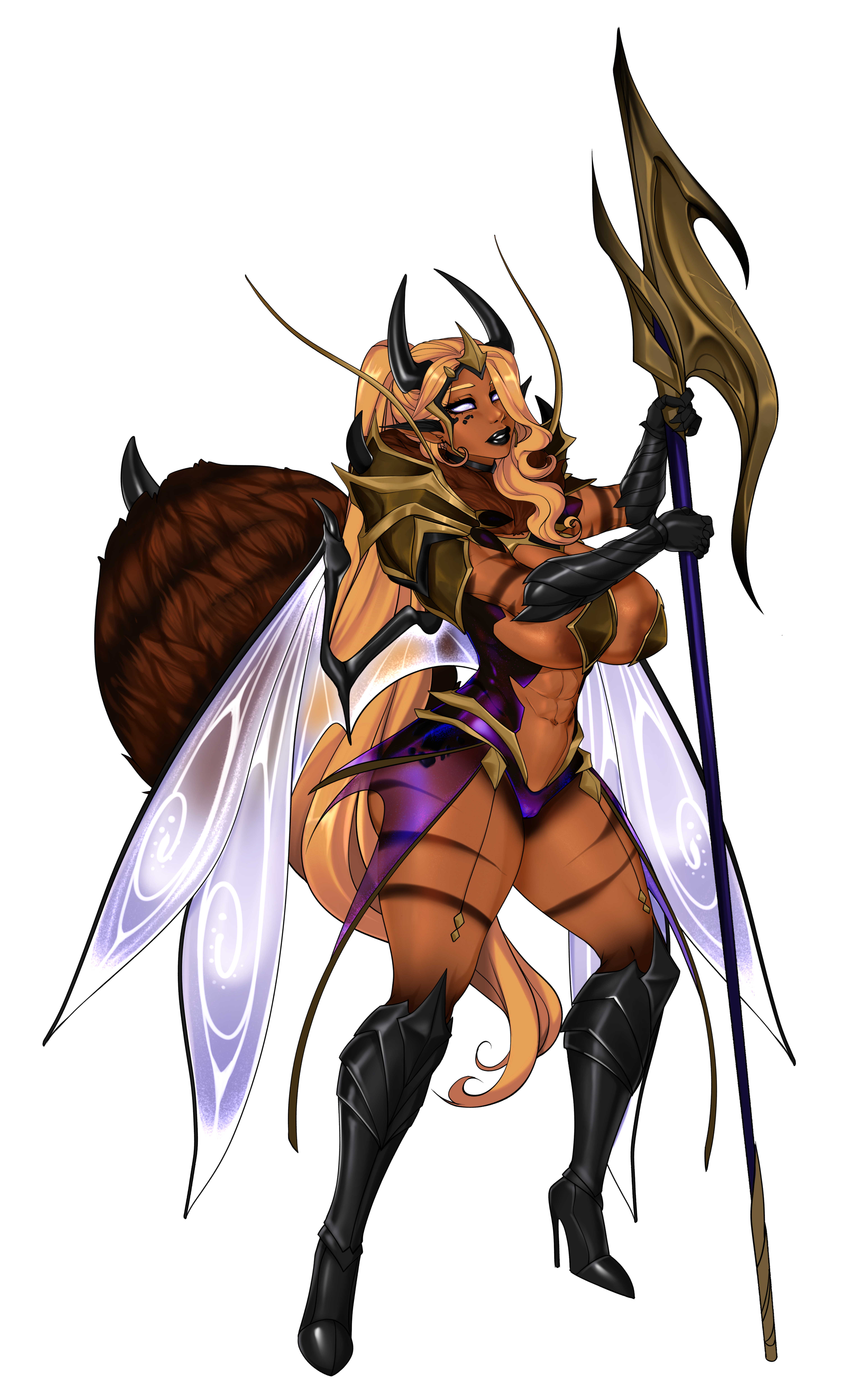 The quest "A Teatime for Dragons" has its resolution now, and with it comes an expansion for either Azzy or Evelyn — it'll make sense in context. I'd suggest keeping a save before making any choices in resolving the quest, since there are mutually exclusive paths at play. To go with these long-underway expansions, Wsan and Skow wanted to chime in themselves to give an update and some acknowledgements!
Hi everyone, Wsan here.
I just wanted to give a quick update on what I've been doing since I don't really have a presence outside of our discord. I've been working on Brint/Brienne's family content for several months now, and the document is in excess of 500 pages. The work is still going fine, but this Evelyn expansion in particular was time-sensitive (ie. do it now, or it will probably never happen). I decided I'd get it done so I could return to the Bri family expansion without regrets. The family expansion will be out later this year, though it will probably come in pieces owing to its size. Enjoy the Evelyn content, and I'll see you with more cool things later!
And from Skow:
I wanted to drop an update too, as I'm bad at interacting with anyone outside of work. Last year was made up of hitting a number of large projects back to back, such as Starhome, and the Wayfort. At the end of the year, however, I managed to wrangle Wsan away from the perpetual mino-mines as part of this latest big update. It's such a huge monkey off my back, and the goal in the future is to revisit a number of older characters (such as the lovely snowcat twins), some more Jael'yn writes (she's a good girl at heart), and… other big projects, you'll just have to wait and see.
Also give a big hand to Drake, Balak, and Leek. Because of the nature of the update, they had to do all of this, and Wsan's content, concurrently in one big brick.
0.5.34 Patch Notes:
The quest "A Teatime for Dragons" has its resolution now. Once you've dealt with the half-dragon's request in the Rift, head to the western reaches of Harvest Valley to uncover the fate of her last relative. You'll have to make a choice with this quest, based on who you want to talk to about the problem therein: either Evelyn or Azyrran are going to get an expansion out of it.
Evelyn has all-new sex scenes – several different rotating ones, a few deliberately pickable ones, and several incidental ones!
All-new conversations to do with Evelyn's future direction. You can choose (mostly) whether or not you'll be servicing her during these conversations.
More longevity to your stays with her. You now (mostly) stay with her after servicing her, or vice versa.
A scaling fight! Owing to the events of the expansion, you can now spar with Evelyn to train her up. She will actually scale up as a result of your training her, resulting in harder and harder fights (to a limit).
She will not grow more difficult if you lose twice in a row.
Sex scenes for the fight results! Win, lose, or even throwing the fight, there's six total scenes there.
Events! Evelyn can get out and about, now. Just don't be surprised when her newfound powers make her a little overeager… especially if you've sparred with her 3+ times.
A new set/tf for Azyrran! Some of you may already know that Azzy's not-so-secretly had some future-proofing in literally all of her content that's never shown up. But the future is now! As with the honey-maid, her new gear set is a transformation that comes with a shinier, domme-ier buzz.
New Azzy sex! – To nobody's surprise
All-new lesbian Liaden scenes – Both with just you and her, and as a threesome with Azzy.
More Azzy/Lia content (featuring loads of tweaks thanks to writer Alypia, she's a real good bean)
A new sexable magic weapon, rub its flanges you dirty slut.
A new sexable character, she's a very good girl.
There's a bunch of tweaks for the prior Dawnsword Quest that still need to be added to account for Things that've been added to this patch, so bear with that until next patch if you're making a new save and doing things in interesting orders of operation!
Meanwhile, Etheryn's next quest/dungeon is hitting the code mines now after a lengthy writing process, as is the next Level Up for the party! It's a chonky dungeon, though, and also comes with a fresh recode of all Ryn's scenes — so while it'll likely be a couple patches until it's ready, RynQuest and Level 7 are officially underway!
If you like what we're doing, consider supporting us on either Patreon or SubscribeStar! And come hang out on CoC2's own Discord!